Part two of my 50 states travel bucket list
I really want to visit all 50 states. I have already been to some, but here is my travel bucket list for the US.
Goodreads Summary:
Stephen has been invisible for practically his whole life — because of a curse his grandfather, a powerful cursecaster, bestowed on Stephen's mother before Stephen was born. So when Elizabeth moves to Stephen's NYC apartment building from Minnesota, no one is more surprised than he is that she can see him. A budding romance ensues, and when Stephen confides in Elizabeth about his predicament, the two of them decide to dive headfirst into the secret world of cursecasters and spellseekers to figure out a way to break the curse. But things don't go as planned, especially when Stephen's grandfather arrives in town, taking his anger out on everyone he sees. In the end, Elizabeth and Stephen must decide how big of a sacrifice they're willing to make for Stephen to become visible — because the answer could mean the difference between life and death. At least for Elizabeth.
My Thoughts:
I have a couple of David Levithan books, but I haven't read any of them until this one. I have over 1500 books because Sadness is a hoarder. Anyway, I decided to read this one, and I liked it a lot. Stephen is invisible and has been his entire life, due to a curse placed on his mother. Not even his mom ever got to see him. His dad left, but still funds his son, after his mom died a couple of years ago. Stephen lives in an apartment building in New York, and when a new neighbor moves in, he is shocked to find out she can see him. At first he thinks the curse is broken, perhaps he aged out or something, but it turns out that no, only she can see him. I loved Elizabeth and her brother. Laurie, her brother, was probably my favorite character in fact. Of course the only girl who can see the invisible boy has a relationship with him. He would obviously love her, but she loves him too. I loved the curse aspect, especially the bit about Elizabeth's graphic novels. I liked the story.
Goodreads Summary:
"The best way to avoid being picked on by high school bullies is to kill someone."
Karina has plenty to worry about on the last day of seventh grade: finding three Ds and a C on her report card again, getting laughed at by everyone again, being sent to the principal — again. She'd like this to change, but with her and her sisters dodging their stepfather's fists every day after school, she doesn't have time to do much self-reflecting. Finally her stepfather is taken away on child abuse charges, and Karina thinks things might turn into something resembling normal. The problem is, he's not gone for good. And as Karina becomes closer with a girl at the community center where her stepfather is not showing up for his parenting classes, she starts to realize a couple things. First, for all the problems her family had tried to escape by immigrating from Haiti, they brought most of them along to upstate New York. And second, if anything is going to change for this family, it is going to be up to Karina and her sisters to make it happen.
M. Sindy Felin's debut novel is the story of a young girl's coming-of-age amid the violent waters that run just beneath the surface of suburbia — a story that has the courage to ask: How far will you go to protect the ones you love?
My Thoughts:
At first I didn't like the voice of the main character, and I considered not reading it. I was intrigued by the story though, and I am glad I finished it. This book deals with a lot, abuse, cultural issues with people who moved to America, a neglectful mother. Karina suffers from blackouts most likely as a result of trauma at home. The Daddy beats her and her siblings. When her older sister almost dies, Karina has to figure out what to tell the police that show up, and whether she should tell the truth to the judge.I found the book to be very interesting.
My goal for this post was to write my favorite childhood memory, but so many of them start well but end up pretty shitty. Like my family and I went on vacation to Disney World when I was 12.  BUT my brother did not want to go and complained the entire time.  We went in June and it was really fucking hot and there were huge crowds. My dad had recently had back surgery and could not ride any of the rides. Everyone was bitchy.  My mom made me wear halter tops but wouldn't let me wear a bra, even though I already had uncomfortably large boobs.  I was awkward and sweaty and uncomfortable all the time. Then we had breakfast with the characters from my favorite at the time, Winnie the Pooh. And it was so cool and exciting, and when I got Piglet's autograph he stole my pen. And when I told my dad he went up there and was like you stole my daughter's pen, and Piglet did the giggle face, and pulled out a huge handful of pens, so I picked mine out and went back to the table.  My brother said he saw Pooh take his head off. I mean I was 12 and I knew they weren't really real, but I just started crying really loud in the restaurant. My brother was so proud of himself for making me feel like shit. I remember him just sitting there laughing, even when both my parents yelled at him. Welcome to the happiest place on earth. I'm sure I have good memories. I must, right?
Amazon description:
Deadman's Tome presents First Contact. This volume of galactic terror features stories that warn of the consequences of bold space exploration, exploitative mining, venturing too far, and contact with foreign entities. You see, dear reader, we are not alone, and our first contact might just be our last!
My thoughts:
I got this book for free in exchange for a review. I loved this little collection of short stories. My favorites were A Layer Hidden by Candace Robinson, which had a great creepy twist, and A Slow Death by James 'Grim' Desborough, which was haunting. All together it was a very good collection of sci fi horror stories. It's quick and all of the stories were easy to read. They all flow together nicely.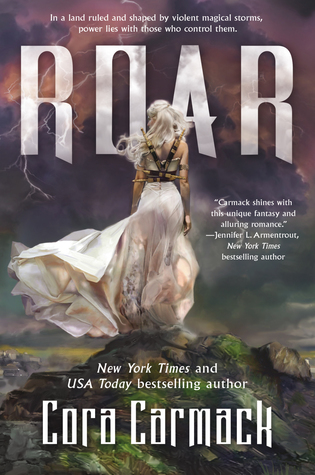 Goodreads:
In a land ruled and shaped by violent magical storms, power lies with those who control them.
Aurora Pavan comes from one of the oldest Stormling families in existence. Long ago, the ungifted pledged fealty and service to her family in exchange for safe haven, and a kingdom was carved out from the wildlands and sustained by magic capable of repelling the world's deadliest foes. As the sole heir of Pavan, Aurora's been groomed to be the perfect queen. She's intelligent and brave and honorable. But she's yet to show any trace of the magic she'll need to protect her people.
To keep her secret and save her crown, Aurora's mother arranges for her to marry a dark and brooding Stormling prince from another kingdom. At first, the prince seems like the perfect solution to all her problems. He'll guarantee her spot as the next queen and be the champion her people need to remain safe. But the more secrets Aurora uncovers about him, the more a future with him frightens her. When she dons a disguise and sneaks out of the palace one night to spy on him, she stumbles upon a black market dealing in the very thing she lacks—storm magic. And the people selling it? They're not Stormlings. They're storm hunters.
Legend says that her ancestors first gained their magic by facing a storm and stealing part of its essence. And when a handsome young storm hunter reveals he was born without magic, but possesses it now, Aurora realizes there's a third option for her future besides ruin or marriage.
She might not have magic now, but she can steal it if she's brave enough.
Challenge a tempest. Survive it. And you become its master.
My Thoughts:
I only read this book because my friend wanted to buddy-read it.  I wasn't really interested in reading it, but fuck was I wrong! This book was SOOOOOO good! The author is also really nice. I have messaged her a few times about Roar on Twitter, and she has always responded! ❤ It's ironic really, because the friend that wanted to read it, didn't end up liking it.  I was totally obsessed with Cassius and then Roar runs away, and we don't get much of him anymore. My main issue with the book is the huge cliffhanger and the end, and no release date for book 2. The storm magic was really cool. In real life, I am obsessed with the sky and with storms and I wasn't sure how the storm magic was going to work, but I thought it was soooooo cool! I thought the book was going to be cliché where Roar doesn't have storm magic even though she was born into, and so she runs away, and then of course she DOES have storm magic and surprise saves the kingdom, and her mom is finally proud of her. BUT THAT IS NOT WHAT HAPPENS! And I was so glad for that. I was in love with Locke, because swoon, and how can you not be?!?! I CANNOT WAIT FOR THE SEQUEL!